Trissie Anderson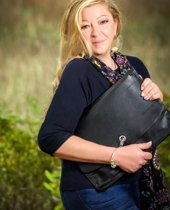 North Carolina has always been home. I've been surrounded by the majestic Blue Ridge mountains up until 2017 when I found my way to the stunning NC coast. My son's custom fishing rod business, our mobile ice cream scooping unit and UNCW brought us to the area. I have family ties in the mountains as well as the NC coastline, and feel blessed to return to Wilmington where as a young girl I spent time with my grandmother.
Prior to becoming a licensed broker/REALTOR and relocating, I worked in developmental therapy as an ITFS (Infant Toddler Family Specialist) provider.
I attended UNC @Fayetteville State and obtained a Bachelor of Science in Psychology, minoring in Sociology (2016).
Personality and Character
Once you meet me you'll see I relish in and have a remarkable ability to connect with people. I have a witty sense of humor, yet focused, considerate and determined. Attention to detail and problem solving skills are two important strengths I possess.
Whether buying, selling, relocating/primary or secondary homes, I'll be excited to join you in this adventure.
Because I am from the mountainous region of NC I have a hearty knowledge that extends into western NC. Mountains to coast, coast to mountains or right here locally, I will be thrilled to assist!
Finally and most importantly, I take my responsibility as a licensed NC broker/REALTOR serious. I want my clients to feel well taken care of and content.
I look forward to speaking with you
Proverbs 22
A good name is more desirable than great riches; to be esteemed is better than silver or gold.