Clay Ritter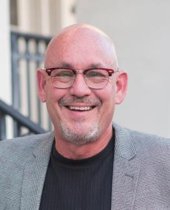 I grew up in Raleigh NC, and in my senior year of high school joined the US Navy, going into their Aviation Electronics advanced program. During my time in the Navy I received incredible training, worked on amazing aircraft, worked on the flight deck of an aircraft carrier, all while visiting many different countries.
After the service I started working for a Nortel Networks in Raleigh, and spent the next 18 years in various roles, including new product introduction, project management, and sales.
In 1998 I married my best friend and partner for life, Tammy Ritter (also a Broker at BlueCoast Realty!). Together we've raised four children and built a life for ourselves here in Wilmington. We love people, working together, and serving our community.
My wife Tammy LOVES the beach, and in 2001 our family moved to Wilmington, where I took over as the lead Pastor of a local church, and Tammy started her Real Estate career.
In 2018 I stepped away from my role as a pastor, obtained my NC Real Estate license, and have joined forces with my wife to form Hope Street Realty. Our team combines Tammy's years of experience in the Real Estate market with my business, sales, and marketing background to create a buying and selling experience that is second to none!
Our Values:
INTEGRITY - Our word is our bond, and we will never misrepresent the truth.

Attention to DETAIL - So that every aspect of your transaction is smooth and hassle-free.

Above and beyond SERVICE - Whether it's staging your home, arranging inspections, or coordinating contractors, we offer a full-service experience.

Latest TECHNOLOGY - Full HDR photography, electronic document transfer and signing, customizable search tools, and a full digital marketing package for all listings.

Most important - RELATIONSHIP. It's about building relationships built on trust and loyalty.

Our motto:
INTEGRITY + EXCELLENCE = RESULTS!
Give us a call, we're ready, willing and able to make your home dreams come true!