Fran Cash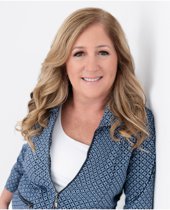 After 17 years in the consumer goods industry, Fran left her role as Regional VP of Sales and Marketing to settle in Wilmington and be near her children and grandchildren. Fran and her husband have been lucky enough to live in many cities including, Raleigh, Atlanta, Chicago, Nashville, Ocean Isle Beach and most recently Tampa. While moving often is exciting and brings new opportunities, buying and selling homes can add its own set of challenges.
Through these moves Fran has developed a clear understanding of what makes a good or bad real estate agent and will commit to bring you the very best in service.
Throughout Fran's career she has built trusted relationships with all her clients, many of whom are still friends today. She made their business needs her own and would not stop until their goals were met. She will do the same for you whether buying or selling your first home or your last. She knows the value of hard work, honesty, commitment and has a 'failure is not an option' attitude. Fran's relentless focus on customer service will guarantee if you work with her once, you will most certainly want to work with her again.
When not helping her clients find a new home or selling an existing one, Fran and her husband Keith enjoy playing golf, boat rides, playing on Masonboro Island with their dog Sandy and most of all spending time with their family.